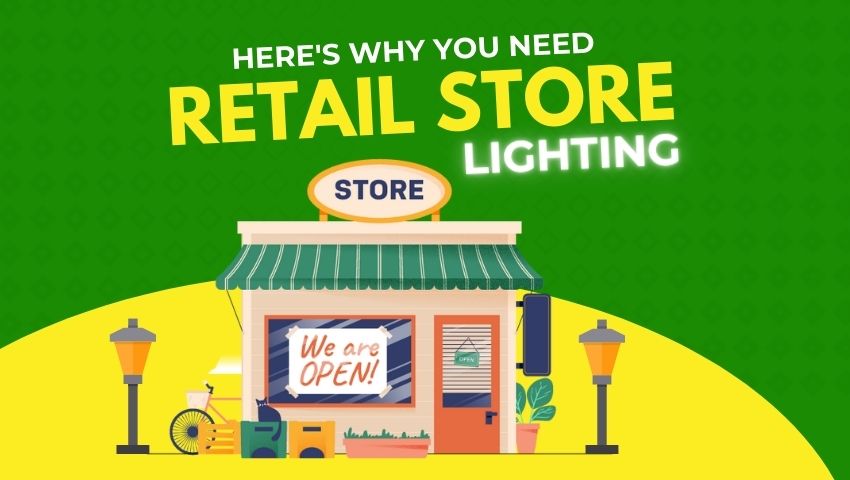 Here's Why You Need Good Retail Store Lighting
Retail store lighting has become increasingly important in recent years. Demand is increasing, distributors are upping their game, and customers want as much as they can get.
We are the best retail store LED light distributor, and we want you to understand the significance of good retail store lighting.
In any case, why would retail stores need to utilize LED lighting all over? We're usually depending on three reasons to pick LEDs: Savings on energy, a decrease in maintenance costs, and performance upgrades.
As we go through the retail store lighting applications, we'll go over each in greater detail. Consider the following scenario:
Understanding Outdoor Retail Store Lighting:
Maintenance costs are a major worry here since lights in certain areas are mounted high up on posts. You have to pay extra for a container truck or lift to change out the lights, hence it is economical to use LEDs. 
Likewise, due to the manner in which LED lighting produces and distributes light, you will not need to change them out, saving you on the cost of maintenance.
Normal wattages for

retail store lighting

can go from 40w to 600w, frequently bringing about a 40%-60% decrease in energy utilization when you do the change to LED lighting.
Another large concern is the security and engaging quality of your business. The lighting performance of LED outdoor lights in retail stores is infinitely better than the old, yellowish gleam of high strain sodium lights.
Understanding Indoor LED Lights for Retail Stores:
By indoor lighting, we mean the lighting that is probably mounted on your roofs all through the store, giving most of the light to clients. It's presumably high bay or fluorescent
These lights are on constantly, so your fundamental concern is most likely energy savings. Retail lighting solutions could save you up to 40-60% on energy utilization in the event that you're changing over high bays
Remember those maintenance costs; like in your outdoor retail store lighting, these are mounted high up and require a lift to keep up with. 
Also, you'll need to disturb clients to change these lights out or pay specialists more to change them at nighttime.
LED lighting has an infinitely better color rendering index (CRI) than conventional lighting. This implies a more white, more brilliant light that delivers your items nearer to the manner in which they search in normal lighting
Understanding Refrigerator LED Lights for Retail Stores:
Probably the coolest thing about the present LED lighting for retail stores is the vast opportunities for cutting-edge controls. 
Motion sensors can turn lights on and off with people walking through, or turn on just when a specific part of your cooler walkway unit is opened. 
This is one of the best Retail store lighting ideas to have in your store. Not having the lights on constantly sets aside energy and cash. 
While it is actually the case that other traditional lights can have controls, LED lighting accompanies a wide range of various added benefits: 
Low energy usage 

Low cost of maintenance 

Performance upgrades
Understanding LED Lights for Showcasing Products In Retail Stores:
LED spotlights are a truly cool choice for retail store lighting. Envision focusing a light, in a real sense, on the clothes you have on special offers. You could see a significant change in customers' reactions when you put on bright focusing lights above your products.
In Conclusion:
At the point when you update your whole supermarket, grocery store, or any retail store with LED lighting, you will see a superior look and feel all through. The advantages of doing your LED retrofit at the same time are clear. 
Getting LED lighting solutions from Beyond LED, a leading distributor, for your retail store will attract more customers. Your store will look fresher and newer, and your parking area in the retail store will be more secure, safe, and really welcoming, and your movement sensor lighting will set aside your costs. 
Additionally our lights will give a cutting-edge, modern feel, and what more can you ask for, better than the most perfect LED Lights for Retail Stores from Beyond LED!
---
Older Post
BILOXI | Cloud LED Linear High Bay

Newer Post
The Sky Downlight - Today's Lighting