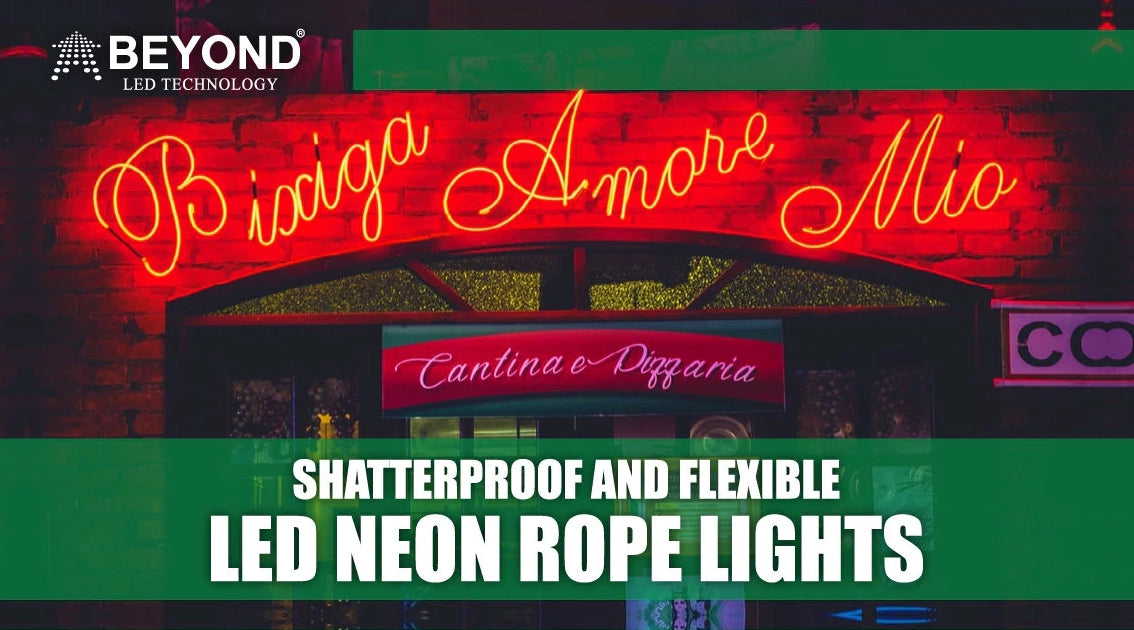 Shatterproof & Flexible LED Neon Rope Lights
It's shatterproof, flexible and comes in a variety of lengths and colors. LED Neon Rope Lights can be used both indoors and outdoors, they are designed to last longer and their energy consumption is considerably lesser than the regular neon tube lights.
These vibrant lights can be used to brighten up:
Restaurants/ Clubs/ Bars
Advertisements/ Signs/ Artistic Displays
Exterior Lighting
Landscape Lighting and more!
The LED Neon Rope Lights at Beyond LED Technology comes in the colors Blue, White, Red, Green, and Yellow. They can be bent laterally and the minimum bending diameter is 50 mm (approx. 2 in). They can be cut into 2-inch pieces and can be mounted with ease. The rope lights can light up to 110 Lumens per watt and have a lifespan of 50,000 hours.
If you're thinking about the safety of the product, well it is UL Listed and comes with a 5-year warranty. So your safety is covered.
What Not to Do When Installing Rope Lights
Avoid turning on the rope light while it's still on the spool. Although LED lights give out less heat compared to other lights, however, when in close contact the heat emitted from them can ignite the PVC cover.
The flexibility of the LED neon rope lights works on flat surfaces. It should not be twisted or bent in a way that it would bend the top or back of the rope light as this might damage the LEDs.
Make sure not to install the lights on gates or doors where it may be subjected to regular flexing and movement.
A minimum distance of half an inch should be maintained if the lights are been placed parallel. Closely installed rope lights might get overheated and shorten the lifespan of the light.
The neon lights are waterproof and are suitable for heavy rain, but they should not be used for complete submersion.
To find out more about our LED Neon Rope Lights,  Call us at 1-866-786-1117 to speak to a representative or click here to become a distributor.
---
Older Post
Must-Have LED Commercial Lighting
Newer Post
LED Panel Lights For Your Business